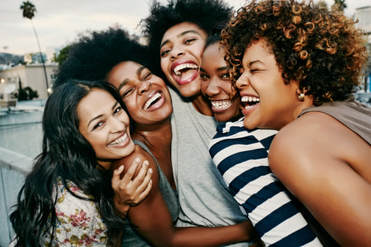 Six Reasons Every Girl Needs a Flossy Posse
Nothing's better than a great group of girlfriends. I mean ride or die girlfriends. After watching the recently released movie Girl's Trip with my "Flossy Posse", I was inspired to write this blog. Being around a positive group of females is good for our well-being. They teach us how to love and nurture one another and ourselves. A great group of girlfriends can build our confidence and increase our compassion for others.
"Flossy Posses" everywhere are defying the notion that women cannot be friends, or at least not longtime friends. This notion goes against the nurturing and collaborative nature of a woman. We actually thrive when we belong to a positive group of female peers. We learn so much about ourselves and life by having a core group of girlfriends.
Here are six reasons everyone needs a Flossy Posse:
They Remind You Where You Come From. As we mature and progress in life, we strive for advancement. This is wonderful. However, sometimes with advancement, we lose the humility that charged us to strive so hard in the first place. That's where your girlfriends bring you back down to earth and remind you that you weren't always as fly as you are now. Because you know their intentions are genuine, you accept their influence and bring it down a notch. You now remember how far you've come and appreciate where you have been, and who knows, maybe even help the kid fresh out of college that reminds you of yourself.
They Remind You Who You Are. As life happens we sometimes forget our purpose and meaning and what we stand for. Or if we don't forget, we simply say "I ain't got time for that". Girlfriends reach back deep and remind you of the dreams you once had, the warm heart you possess, and even the crap you would never put up with. They know your heart and desires and will always push for you to be your authentic self.
They Teach You Compassion and Empathy. As the years go by you will see your dear friends go through challenges, challenges you were once oblivious to. Now that it has hit home, you walk about life more humble and empathetic because you know the next person's struggle could very well be your own. You speak to others with a softer tone and kinder spirit because this is how you would want someone to be towards your friend who is having a difficult time.
They Teach You That Love Is a Choice. You weren't born into this friendship so you can leave and not look back at any time. Despite the ups and downs, eye rolls, arguments about a Big Buford from Checkers at 3am (true story, thought the friendship was done over this one), you are there because you want to be. This increases our positive feelings to know that even in our flaws, someone is choosing to love us, and not because they are related to us. This also allows us to be accepting of others and our differences and choose love despite those differences. We become more tolerant towards one another.
They Make You Rise Up. When you see the accomplishments of your girlfriends, it lights a fire in you. Not a flame of envy or jealousy, but a spark of excitement and hope. There is hope in knowing that the same spirit of success in your friend also lives in you and they can serve as an example or guide for you as you chase your dreams. There is nothing more empowering or motivating than being surrounded by boss chicks. Everyone thriving in their own right is great for the friendship because you can confidently let your light shine without the worry of offending your friend whose light may be dim. I once heard Oprah say that her relationship with Gail [King] is so strong because Gail always loved her own life and what she was doing. I'm sure this in turn allowed Oprah to be, well, Oprah without the guilt or feeling the need to dim her light so Gail would be comfortable. Because Gail is living her own life and successful, Oprah can carry on and be, Oprah, and share her life with Gail.
You Have a Constant Cheerleader. With your girlfriends comes an automatic fan club. They are cheering you on and wanting the best for you always. They have the confidence in you, you might not have in yourself yet, which is all you need to make that move. No matter what it is, they got your back. Even when they question your decisions or play devil's advocate, they are still your biggest fan, and just want to make sure the situation is safe for you. Whether they respond to you with excitement, "you got this girl, go for it!" or hesitation, "are you sure, well ok, I'm here for whatever you need" [spoken dryly], it is all out of love and wanting the best for you.
I hope everyone is lucky enough to find their own Flossy Posse. Women nurture their spouses, children, and communities, and we also need to nurture each other. Find some time this month to hang out with your girls to laugh super loud, eat amazing food, and pour into each other.
The content on this website is not intended to diagnose or treat, it is for informational purposes only. Please call our office at 404-618-1040 for an appointment or contact a mental health professional in your local area if you are seeking treatment.