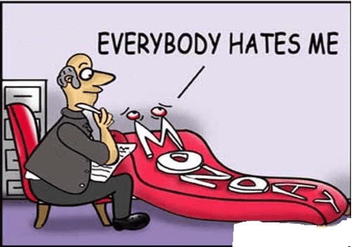 How to Beat Monday Mourning
5 Ways to Defeat the Monday Work Blues
It's 5pm on a Friday and life is good. You're ready to get the weekend started and take a much needed break from work. Over the weekend you hang out with friends, have dinner with family, and just kick back. Then Sunday around 4pm it starts to hit you. You begin to think about all the things you need to do at work and how your plan to "take work home over the weekend" did not go as planned, who are we kidding, it didn't go at all. Your workbag is in the same place you put it Friday evening. Now you feel guilty and somehow behind at work already. This now turns into feelings of anxiety and dreading having to go to work the next day. You even go so far to fantasize about quitting your job as a means to rid yourself of the anxious feelings. Okay maybe that's too far, but you really think about taking a sick day. Pretty soon, your Sunday evening is ruined by your scorn for Monday and now you're upset with yourself for wasting the last hours of your weekend. It's a vicious cycle that gets the best of many of us.
​There are many reasons Mondays are difficult for working individuals. Surprisingly, many of these reasons have nothing to do with work. For instance, many people try to catch up on sleep during the weekend and sleep in for an extra hour or two. According to scientists, that extra sleep can throw your body clock off by up to 45 minutes making you more tired at the start of the week. This makes it even more difficult to get up on Monday morning. Another reason people dread Mondays is because it is perceived as more stressful or depressing than Tuesday, Wednesday, or Thursday. When individuals recorded their emotions at regular intervals throughout the week, with the exception of Friday, all workdays were equally stressful and depressing. However, when individuals were asked to remember which day was the worst, they choose Mondays. This is because there is a significant emotional shift from Sunday (weekend) to Monday (work day). One other cause of the dreaded Mondays is overindulgence over the weekend. A typical weekend for some might involve overindulging in food and drinks which causes us to not feel so good about ourselves. In turn we feel unhealthy and not our best and of course Monday gets blamed.
If you simply hate Mondays because you hate your job, you're not alone. According to a massive Gallop poll, 70 percent of people hate or, at best, are "completely disengaged" from their job. Feelings of anxiety and depression start Sunday evening. If your hatred for your job significantly impacts your ability to perform at work or impairs your daily functioning, then you should evaluate your career or job options as it could be time for a change. If a job change is not in order, below are five ways to defeat the "Monday Work Blues".
1. Make Monday's To Do List on Friday. Before heading home on Friday, make Monday's To Do list. This will allow you to not only prepare for Monday, but to release any anxious energy that might hold you hostage over the weekend. You know, the anxious feeling you have about an upcoming project that runs through your mind all weekend yet you're paralyzed and do no work on this project over the weekend. So you're worrying with no action. You might as well make an agreement with yourself to not worry about it over the weekend because you have a plan (i.e. To Do List) of how you will tackle the project Monday.
2. Unplug. When your workday ends on Friday, unplug. No more work phone (unless you're on call), no more laptop, or emails. To be able to fully unplug and enjoy your weekend, this means you must be productive during your work week to accomplish tasks. You've heard the phrase "the work will be there". Well, it's true. No matter how much you accomplish there is always something else that can be done. We think we're being productive when we open our laptop on a Saturday to work while catching up on our favorite shows. However, what happens is that a 30 minute task takes two hours because we are really just watching TV. Eventually we close the laptop frustrated with ourselves for not getting anything done. Allow yourself to recharge over the weekend, you will be a better employee by doing this.
3. Work Up a Sweat. Start your Monday morning by doing some form of exercise for 30 minutes. This could be Yoga, a spin class, running, stretching, or just dancing to Beyoncé. Your body will release "feel good" endorphins making you feel positive feelings throughout your body and more confident.
4. Just Be. Practice mindfulness, which is a state of conscious being and accepting your thoughts and feelings without judgement. Spend five minutes or more sitting in solitude observing your thoughts and feelings. Whatever you think or feel is okay. The goal is not to make yourself feel a certain way but to acknowledge what you feel and think and just sit with it. Be compassionate towards yourself. Accept the present moment as it is. Being in the here and now allows you to release tension as you are no longer worrying about all of your flaws at work or wishing your job was different or better.
5. Do a Good Deed. Do something nice for a coworker like bring them their favorite latte or breakfast sandwich. While this will surely put a smile on your coworker's face, it will absolutely make you smile, especially on the inside. Doing a good deed has been known to generate feelings of satisfaction and gratitude as well as release those "feel good" endorphins. Being kind and generous also has a ripple effect and may inspire your coworkers and create an altruistic culture at work.
​
We've all experienced the "Monday Work Blues" and can overcome it with these tips. Monday is always right around the corner so no more mourning. Happy Monday!
The content on this website is not intended to diagnose or treat, it is for informational purposes only. Please call our office at 404-618-1040 for an appointment or contact a mental health professional in your local area if you are seeking treatment.